I love madeleines. But, I just can not resist when they have chocolate chips! 
I will share with you the secret to making the perfect madeleine with its famous bump. Indeed, because a madeleine, either normal or mini, is not a real madeleine without its bump; it is soft and its shell-like surface is slightly golden.
This recipe will give you 40 light and moist mini madeleines or about twenty chocolate chips madeleines of normal size. In this case, it would be 12 min of baking at 350°F. 
Equipment:
Pastry bag (Optional)
Kitchen Scale (Yes we scale everything, because it's wayyy more precise than using cups)
Ingredients
2 eggs
130g butter
50g chocolate chips
80g sugar 
2 Tbsp liquid honey
140g flour 
1 tsp baking powder
Preparation of chocolate chips madeleines
Melt the butter and let it cool down. With a whisk, beat the eggs. Add the honey and continue beating. 
Add the flour and the baking powder and mix well until it is homogeneous. Finally, add the melted butter and the chocolate chips. 
Let the batter rest for 2 hours in the fridge. 
Preheat the oven to 350°F. Butter the madeleine molds. Fill with a teaspoon, or if you have a pastry bag (it's a lot more convenient). Fill the cells to 2/3. Do not put too much batter because the madeleines will rise during baking. 
Bake for about 12 minutes, or 8 minutes for mini madeleines. You can unmold them immediately after. Taste them while lukewarm, your chocolate chip madeleines will taste even better!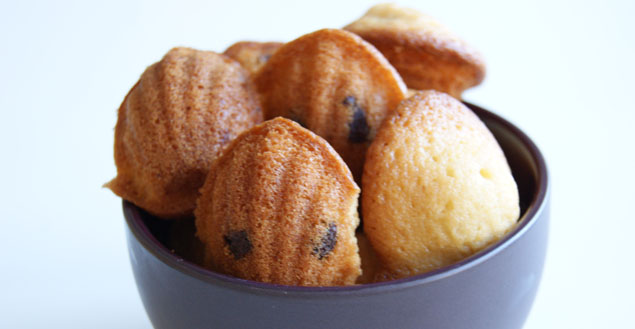 The secret in achieving the bump of the madeleines
A madeleine without a bump is not a madeleine. To achieve this, it is necessary to create a thermal shock. This is why it is better to let the dough rest in the fridge, either in the mixing bowl or directly in the molds. When you put them in the oven, the difference of temperature then creates a bump on the madeleines.