San Diego with kids? Why not? San Diego is a beautiful city on the west coast of the United States where the weather is always nice, you can walk around (which, when you live in Texas is a real pleasure), bike, or visit on scooters. And the whole family can find fun activities to please themselves, even your young kids.
The whole family spent Christmas in San Diego and we were charmed by this beautiful city and its many family & kids activities. Even if, let's face it, San Diego in 3 days left me a taste of too little!
San Diego with kids, the fun activities we preferred
1. Enjoying San Diego Downtown in surrey bike
As I told you in before, San Diego is a city where you can walk without problems. But we can also ride. For that, you can choose:
The pedal car: That's what we took. Because with a small 3 years is what was more practical. You can ride on sidewalks that are quite wide. (You do not have the right to go on the road anyway) The rental costs $ 30 / hour. An hour is just what you need to do the whole port from one end to the other, without hurry. Take the opportunity to admire the sublime statue of the kiss. (Unconditional Surrender Statue), the USS Midway aircraft carrier just next door. (This is a pretty … impressive museum!)
$ 30 an hour at Wheel fun rentals: More information
Be careful! Scooters go fast enough, and there are people on the sidewalks!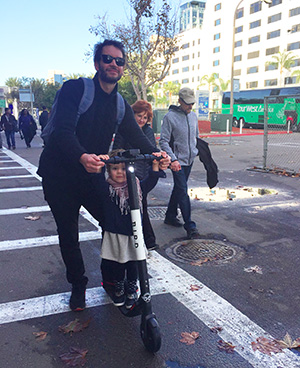 If your children are older, I recommend electric scooters. They are absolutely everywhere. To use them you just need to download the application. There are 3 suppliers, so the application depends on the scooter you will take. (Bike, Spin, Bird) Thanks to the app, you can geo locate the nearest scooter. But, really, you will have no difficulty in finding near the port. With the application, scan the code on the scooter, you are directly billed according to the time spent.
You can not be in San Diego with your kids without eating an huuuuge ice cream while basking in the sun on the harbor. Bonus: Try to see the sea lions near the boats hoping to steal some fish. (If you do not see them, you'll hear them!) Sea Port village is located at the end of the harbor. You will find something to snack, eat (including fish restaurants), a nice carousel for your little ones, and especially a Ben & Jerry's shop where you will stuff your belly with good ice cream! (My favorite: Milk & cookies <3)
3. Take a boat tour in an amphibian bus to see the sea lions in the bay
You do not know what an amphibian vehicle is? It is a bus that goes on the road, but also goes in the water! This is a relaxing activity that the whole family has enjoyed. The tour lasts 1:30. 30 min on the road, 1h in the water. During the 30 min on land, the guide gives you nice stories about the city and its history. Then, while you're out on the water, you'll enjoy the beautiful scenery of San Diego Bay and watch the sea lions napping or noisily arguing for a place in the sun.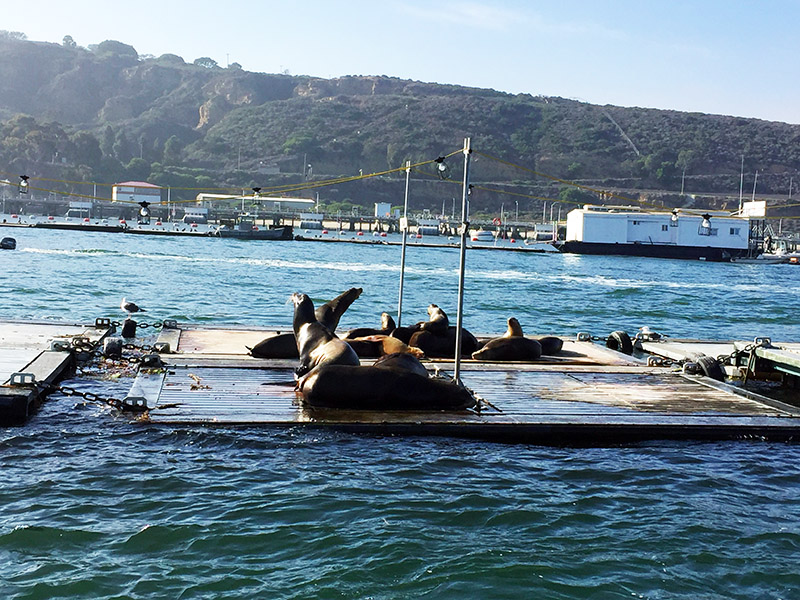 Book here: City Tours San Diego
4. Visit all the great neighborhoods of San Diego with the trolley: Old town, Little Italy, Gaslamp.
If like us, you choose not to rent a car (Not necessary if you plan to stay in the city, but you will need it if you want to go more outside) The easiest solution is to take a pass for the trolley. It goes to all nice neighborhoods. You go up and down when you want. It passes regularly, and its map is easy to understand. For the trolley, we booked online. This avoids the tail, which is handy when travelling with children. + you can take packs of activities (Trolley + Tour boat for example) with discounts.
Book here:Trolley Bus Tour along the Pacific Coast – Multiple stops in San Diego, La Jolla & Mission Beach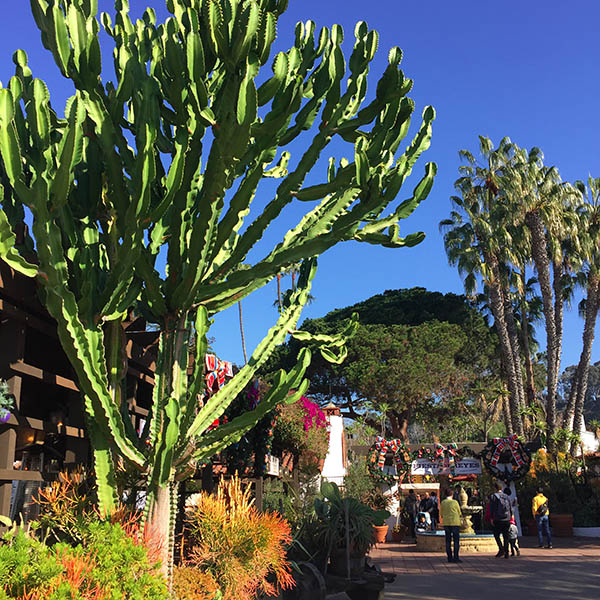 5. Balboa park: The essential to enjoy San Diego with kids
In the heart of San Diego, this beautiful park is home to 16 museums and the well-known zoo. You can either go for a long walk in the park (entrance is free) or explore the many museums.
For your tickets I highly recommend you take a pass that will give you access to all the fun and other activities.
Book here: San Diego Pass: Access to 40+ Museums, Parks, Tours & Attractions – Valid 1, 2, 3, 5 or 7 days
Book all of your tickets in advance!
San Diego is a tourist town and you do not want to spend your time waiting in line. (Especially, if like us, you do San Diego with kids!) We passed among others by Ceetiz website which works very well and which gathers all the activities which you can want to do in family in San Diego.
Where to sleep in San Diego with kids
Even if you want to spend Christmas in San Diego with your family, you can find a family friendly hotel without cracking the budget. We booked the Marriot San Diego Downtown through Booking.com.
Rather mild price for California, the hotel is specially well located for all activities and transport, with an amazing view of the harbor and the USS Midway (the imposing museum). We took a king size bed with sofa that folds out to a double bed. (Perfect for your little ones!) If you want more privacy, you can also book connected rooms.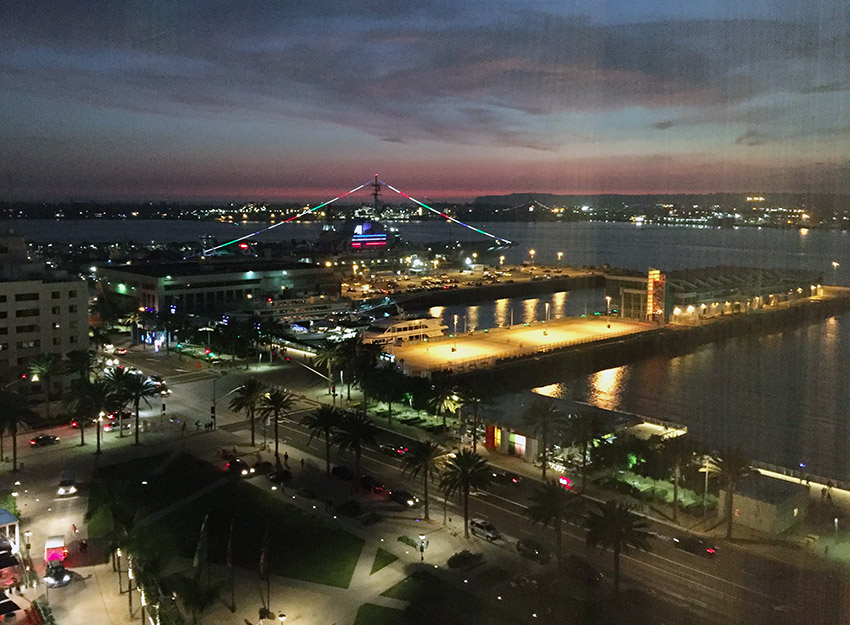 The room is equipped with a coffee machine, a fridge and a microwave, convenient for storing snacks or warming baby bottles.
The delicious breakfast is included in the price.
But above all what we liked is the perfect location to enjoy the city. 2 steps from the start of the trolley, the amphibian boat, a few minutes from Little Italy, and perfect starting point for your walk on the seaside.
Book the Marriot Downtown San Diego here
More hotel options in San Diego Downtown
Good to know about San Diego with kids
Rent a car or not in San Diego
It may be tempting to rent a car to get around, but be aware that the cost of parking is very high (this is the case everywhere in California). I highly recommend the trolley to visit the town. Or Uber or Lyft, if you want to get out of the city, towards the beaches. You will really save and you will be so much more convenient.
Eating in San Diego
You will find any type of cuisine in San Diego. And you will not have trouble finding good addresses to eat well. Here are some addresses that we all liked, in very different styles.
Little Italy: From what we have been told all Italian restaurants are good and there is not really any bad choice. We tried the pizzas by the slices at NaPizza and they where amazing. Perfect for a quick stop. And the restaurant Nonna where we had great italian pasta on the terrace on December 26th. (So great!)
Gaslamp: On December 24th we went to Provisional kitchen. Very beautiful restaurant in which we serve a fairly refined cuisine.
If you are looking for a French break: You can land at the Parfait Paris. The coffee offers good pastries, but you can also have lunch there.
Downtown, 2 steps from the Marriott Downtown San Diego: During weekends there are foodtrucks, which offer a wide selection of fresh foods. There are even blankets and umbrellas on the lawn next to you. Otherwise, we made Beach Hut Deli our regular canteen. All the ingredients are fresh, it's simple and hearty. They offer nice salads and big sandwiches at reasonable prices.